The Art of a sale is cloaked in mystery to many but the procedure is relatively simple as explained by Peter Hanley in this easy to follow post.
It matters not what you are selling, it is how you sell that matters.
We all get sold to every day. What is important is that we don't all buy every day. So what is the difference?
We buy from people we like
Mostly only what we want
It is always for a reason
Price is not a consideration
Trust is important
Know, Like and Trust
First of all, we need to look at the art of the introduction.
Whether it is a quick sale or a drawn-out process the procedure is the same therefor only altered by time.

Let me run an example. You are introduced to someone at a Barbeque that maybe needs what you are selling.
You introduce yourself and chat about generalities and drop where you work or chat about products but there is no selling. perhaps you might follow up the next day or week and reintroduce yourself and suggest you may have something of interest. Then you are known because you met at the Bar-b, liked because you shared a Beer and trusted because you have mutual friends.
If you went straight into a sales pitch you are dead in the water.
Hey Jim, nice to meet you how about you buy some Life Insurance from me.

Perhaps your introduction goes down the line of meeting Brian, he is looking for some car tyres perhaps you can help.
Now you fast track the situation by giving some background to build your credentials. Then establish their need and promise them to follow up with some great stuff tomorrow. perhaps I can help you with a deal.
In the first example, your purpose is to create a need for the product in the second solution.

I only tell you this because you need to create like and trust before any selling is possible.
Creating attention in a sale
Many buyers have a small attention span as their mind wanders around a store looking for something else to stimulate them.
This is when you need to keep their interest high by including them in the conversation.

You do this by asking relevant questions.
Do you want High-performance tyres or Price based plodders?


I believe Michelin is best but would you be happy with Kumo?
Asking the right questions and listening to the answers is a skill.
Remember it is not about you, focus on their needs and wants and find that buying signal to take them forward.
" My mate just got Kumos and he reckons they are great,
so now pushing Michies is a waste of time, change tack and continue, "Off-road or performance" and etc.

This is also a step for
Setting up small decision steps in a sale
They call them soft yesses, the more times they say Yes the easier the final one will be.
Is that your Beemer out the front?
Love the colour did you choose it?
How many miles / Klms did you get from the tyres,
are you happy with that?
Have you heard of Michelin tyres?
They come with a great history don't you think?
BMW insists on a high-performance rating tyre and as a true believer, I bet you have to agree.



I have dumbed this down because your business is like no other it is just that the rules are the same.
People buy for various reasons.
Fear. Insurance
Prestige Mercedes
Quality Toyota
Reputation Tag Heuers
Money Aldi
Time-saving  Home delivery
Location 7-11 local
What is your client looking for, ask the questions and drill down to a few simple conclusions before pushing the point?
Beware, buyers are liars, they don't mean to be they want to be sold so they keep their cards close. Have you ever done this?
Remember the price is forgotten long before the value is realised so don't sell on price.
Price is closer not an opener.
The soft yes, If I could get it for you at $x would we have a deal?

The Cooper Tyres will give you a 100,000 Klms while the Sumo only about 30,000
As a result which way are you leaning?
There are however closing signs if you ask the right questions.
He responds "my mate bought Kumos and he loves them"
You would say "did he get a good price" and then it is about prestige. Everyone loves to Oneup there mates on price, game over.

My most important sales tip ever
Now, this is one any experienced salesperson has encountered. It is an awful moment of realisation that you have just messed up, big time.
Your customer says yes so you continue to sell benefits and explaining how good it is. Then you see a thunder cloud come over their face and they say, "Look I need to think about this a little more."
The customer and the sale are gone forever. There is no coming back.

So when the customer says yes then shut the frig up! and process the sale. Chat about the Weather the kids' anything except what you are selling.

It has happened to me, the point of no return as your stomach shrinks at the moment you realise you just lost a sale and there is no going back.



The art of Storytelling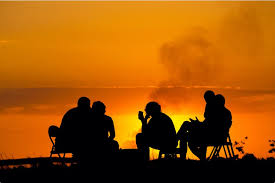 " I was reading an article recently about Alby Mangles the explorer and danger man. He was in outback Africa and blew three of the four tyres on the Jeep he was thrashing. It was the second set that had gone in as many days and he desperately wanted something better. This little old African man, all five foot of him, looked him up and down and said to Alby " that's really pretty dumb trying to get those soft on-road tyres to last in amongst the conditions out here. What you need is these great Out of Africa road grips that will get you to Capetown and Back without a problem." What choice does Alby have? The sale is made.
By the way, I have some in stock want to have a look?

Today I was actually in a tyre store to get a couple of tyres, I knew what I wanted so the discussion came down to price and price only.
Well, that's what I thought. The tyre guy walked me to the car and went to the little tyre plate inside the front door where he said, " In a BMW x5 you must have a special speed-rated tyre as written or you will get a humming noise in certain conditions, have you ever noticed that? Well yes, actually I have I replied.
Therefore the Tyres you need are a hundred Bucks more but they stop mechanical damage to your front end.
I paid the extra and went out knowing I had the best quality and the fear of damage was satisfied.
Treat every sale as an opportunity to help.
I went to the hardware shop recently to buy some Gate Hinges, bolts, nuts etc to fix a problem with a loose hanger. Told the guy what I wanted and he asked what I was trying to do. The screws in the hinge have come loose and no matter what I do I can't fix them, So I am going to replace them all.
Because he was an older guy, probably an ex Carpenter I listened and he said, Just put a driver in your drill and hit the current screws with a quick drill blast and the problem is fixed.

The guy was correct it worked a treat, hence I saved on the hinges and he missed that sale for the day.
Especially relevant is what he got, however, was my return business forevermore.

Selling is a true Art
Finally, treat your role with a Professional approach no matter what you are selling.
Furthermore, It will pay you handsome returns for caring and sharing with people that will continue to Like and trust you, therefore, they will recommend you to others.

The whole business comes back to the fundamentals of know, like and trust and when you realise these simple rules your life will be one of success.
In conclusion, the Author Peter Hanley has over 50 years in selling experience in all manner of products and loves to share this with you on his home page at Newbusinessonline.