About Ubersuggest a keyword tool by Neil Patel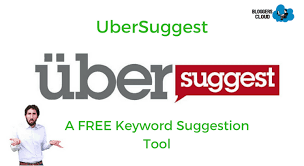 Ubersuggest review allows you to get insight into the strategies that are working for others in your market so you can adopt them, improve them, and gain an edge.
Introducing Ubersuggest the review
Website is
https://app.neilpatel.com/en/traffic_analyzer
Price; Amazing, it is free
Owners Name Neil Patel.
About Neil Patel


Neil Patel
He is a New York Times bestselling author. The Wall Street Journal calls him a top influencer on the web, Forbes says he is one of the top 10 marketers, and Entrepreneur Magazine says he created one of the 100 most brilliant companies. He was recognized as a top 100 entrepreneur under the age of 30 by President Obama and a top 100 entrepreneur under the age of 35 by the United Nations.

His partner is Mike Kamo
Ranking 95 out of 100
General review of Ubersuggest
We all know how important Keyword research is for our business, Too much traffic and you never get seen and too little and you never get found.
For business owners, bloggers and anyone on the web this is a product you must review.
It checks Keywords for volume and ability
analyses your site
provides an overview
shows the top sites
SEO annalyser and backlink checker
Plus a great training school
It is free
What is good with Ubersuggest
Pro#1 It is easy to use, colourful and very simple for anyone.
There is no messing around with this, type in a keyword, be it long or short and you will see the results.
Pro#2
Your choices are good for both site review and new word selection
Pro#3
Keyword ideas. We are all searching for great keywords so here you find them with traffic results and potential so you can market professionally
Pro#4
The backlink analyser shows where your site sits on the table.
Pro#5
Neil has attached training on many of the questions you will want to ask.

Are any bad things on Ubersuggest
Con 1
It takes a few times around the site to find your way even though it is very clear. Like anything new, it has a lot inside to find that works for you.
Con 2

I believe most search terms originate from Bing
Who is Ubersuggest for?
This is for a wide audience that has some idea of websites, keywords, affiliate marketing, blogging or website and business interaction including advertising
There is no more important product than Keywords and doing it properly, takes you there.
Tools and training with Ubersuggest
First up the training page is great with topical calls to action. One example of training tells of the upgrades coming at Ubersuggest all in easy-to-read format.
The tools are clearly shown and easy to use.
Support at Ubersuggest
I have not used the support page but it does come with email chat and presumably a quick return. Not much can go wrong so I am not concerned with no Telephone support.

Ubersuggest Pricing
This certainly is a great part of this service in that it is free to all without an upsell.
My final summary of this tool
I use a keyword tool every day so this is a great alternative to both compare and grab extra information.
The whole thing is free, unlike most other finders which is great for anyone marketing products of any kind.
Neil and his partner Mike have presented a really good platform and it will be interesting to watch it grow.
The product is Neil Patel UberSuggest
My Opinion is 100-100
This is not a scam site
completely legitimate and a tool for everyone in business or online.
Competition
Jaaxy keyword tool Free and Paid Version
Noble Samurai Paid
Buz Sumo paid
Keyword tool.io paid
Longtalepro Free trial
Wealthy Affiliate tool free
Ubersugest review by Peter hanley